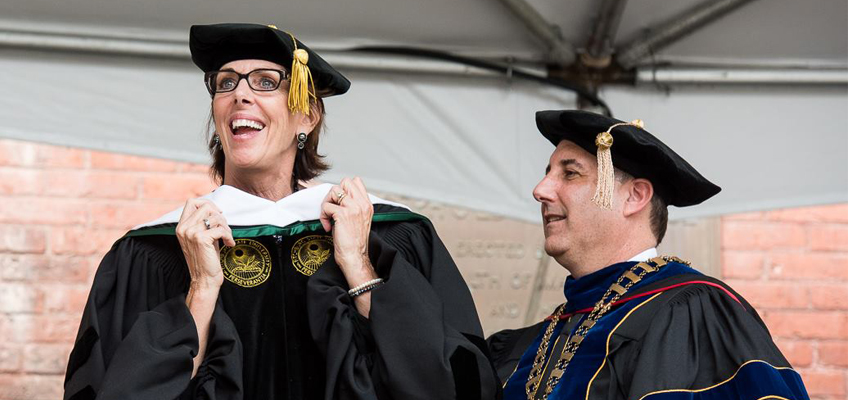 Barbara Wilson's Commencement Speech for Fitchburg State University
July 20, 2016
On May 21, 2016, Barbara Wilson delivered the commencement speech at Fitchburg State University's undergraduate graduation ceremony. A proud alumna of Fitchburg State University she shared her post-graduate advice about the power of positive action, imagining the goals you want to accomplish, and bringing those goals to life. Barbara advised the new alums to "give yourselves time to ponder, wander, to think, to visualize and to dream."
Reflecting on her own experiences, Barbara also emphasized the importance of being kind toward others, telling the audience, "The way to make our world great is by creating a great world. That is, by choosing words thoughtfully, by choosing actions that are positive, and presenting yourself with class." Barbara was previously honored by FSU when she received their Distinguished Alumna Award, and was again honored at the commencement ceremony with an Honorary Doctorate of Humane Letters.
To watch Barbara's full commencement speech, please click here. (Please note that she begins at the 40-minute mark.)
For additional coverage on the commencement ceremony, please click here.
For a profile on Barbara leading up to the ceremony, please click here.