Wilson Reading System (WRS) Instruction
It is strongly recommended that students who require intensive instruction due to a language-based learning disability, such as dyslexia, receive instruction individually or in small groups from an instructor with Wilson Reading System® (WRS) Certification.
Some features of WRS instruction are summarized below to assist those with a student starting the program.
Help for Children with Dyslexia
WRS is specifically designed for students in grades 2-12 and adults who have a language-based learning disability, such as dyslexia.
This evidence-based program:
Has demonstrated success helping students with dyslexia read and spell.
Teaches five areas of reading (phonemic awareness, word structure/phonics, fluency, vocabulary, and comprehension) plus spelling.
Is an Orton-Gillingham program that incorporates current reading and writing research and extensive experience teaching students with dyslexia.
Addresses phonology, morphology, and orthography in the teaching of the structure of the English language in a systematic, cumulative manner.
Uses multisensory techniques (visual, auditory, tactile, kinesthetic) to teach all concepts.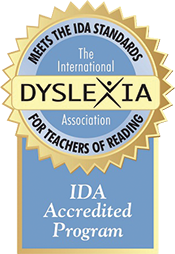 Wilson Language Training® and Wilson® Accredited Partners have received accreditation by the International Dyslexia Association. Learn more on our Endorsements page.
The Wilson Reading System is also included in the International Dyslexia Association (IDA) Matrix of Multisensory Structured Language Programs. This publication identifies programs using Orton-Gillingham techniques that are critical for teaching students with dyslexia and have been proven successful.
Additional information and resources are available in our Dyslexia section.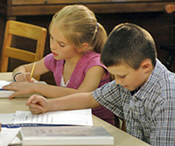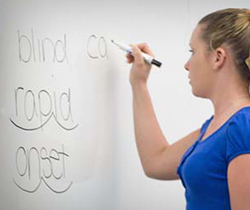 Time for Wilson Reading System Instruction
Wilson Reading System instruction can be implemented in a one-on-one setting or with a small group of students. Depending on the frequency and intensity of delivery, it may take 2-3 years (or more) to complete all 12 Steps of the curriculum.
Learn more about WRS scheduling and time needed for instruction. »
Progress in the Wilson Reading System
The Wilson Reading System presents the language system of English in a systematic, sequential, and cumulative manner over the course of 12 Steps, or units. Each Step is broken down into substeps that focus on specific language concepts.
All students new to WRS start in Step 1 to ensure understanding of basic language concepts. Whether a student begins the program in Substep 1.1 or 1.3 is determined by the WADE (Wilson® Assessment of Decoding and Encoding) pretesting score.
Pacing through substeps and Steps can vary greatly and is determined by student mastery. To successfully progress through each WRS substep, students must become accurate and fluent with the skills and concepts taught in that substep.
Learn more about the concepts taught in the WRS curriculum. »
Learn more about student assessment to monitor WRS progress. »
WRS Lesson Plan
Teachers follow a ten-part lesson plan during each WRS session. The WRS Lesson Plan is organized into three blocks, each approximately 30 minutes in duration.
Block 1: Parts 1-5 emphasize word study/foundational reading skills.
Block 2: Parts 6-8 emphasize spelling/foundational writing skills.
Block 3: Parts 9-10 emphasize fluency and comprehension.
Learn more about the WRS Lesson Plan. »
WRS Materials
A WRS Introductory Set (Steps 1-6), 4th edition, provides the materials needed to teach Steps 1-6 of the program. It includes one set of student materials.
At a minimum, the following materials are required for each student:
Student Reader for the WRS Step being studied
Magnetic Journal with Letter Tiles
Student Portfolio (Steps 1-6)
End-of-Step Assessment student materials (a Student Progression Recording Form and a My Step Progress Booklet)
Learn more about Wilson Reading System materials. »