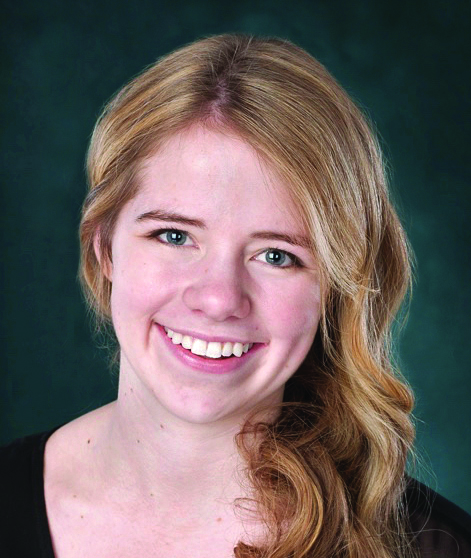 Diagnosed with ADHD and dyslexia in second grade, Ohio native Kelly Ettinger began her WRS studies with Wilson® Credentialed Trainer, Ellen Brick. By the time she completed elementary school and the 12th and final Step of WRS, there was no stopping her quest for knowledge.
In high school, Kelly mentored fellow students and shared her experiences and the importance of self-advocacy with her peers, their tutors, and parents.
"My parents were very up front with me from the beginning. They explained to me, 'You have ADHD and dyslexia, and it's not bad or good—just different.'  They were very positive about it, so it was never a negative thing to be dyslexic, or ADHD, or to have tutors, because they were so open and so positive. Then I was really open and really positive, and I just carried that."
Kelly went on to graduate in 2017 from Franklin and Marshall College in Lancaster, PA, with a bachelor's degree in English Literature. This fall, she is pursuing a master's degree in Elementary Education at the University of Northern Colorado.
Below are five of Kelly's favorite tips for college-bound teens with learning differences.
Tip 1: Know the procedures and policies of the school's disability services
Whether you are just starting to look at colleges or about to begin your first year, it is important to know how the disability services office at your school functions. This is the place to learn how to apply for accommodations, how professors are notified about accommodation plans, and whether you'll need to notify disability services to reserve a computer or schedule accommodations for an exam in advance. Get to know who runs the disability services office, who you should contact if any issues arise, and who handles day-to-day affairs.
Tip 2: Advocate for yourself
Advocating for yourself is extremely important. Take the time to meet with all your teachers at the beginning of each semester. Not only is it great to develop a connection with your professor or Teaching Assistant (TA) early on, but it is an opportunity to have a one-to-one chat with your professor. You can discuss your disability, your needs in the classroom, what your professor could help you with, ask any questions you may have about the course, and see if your professor has any questions about how best to help you. Throughout the semester, do not hesitate to talk to a professor or TA if you need help with assignments, have questions about the class, or want advice on what you can do to improve. Professors and TAs are there to help you learn.
Tip 3: Utilize the tools at your disposal
Nowadays, most schools provide a plethora of services to help their students with their coursework. Make sure to look up which services your school offers to students and use them. Whether it is tutoring, peer review at a writing center, or individual meetings with a librarian to discuss a research project, take advantage of the services at your disposal. Many professors or TAs will even look over outlines, drafts, and proposals before a final paper or presentation is due.
Tip 4: Review your work
College is very busy, and it becomes tempting to just finish an assignment hastily and turn it in. Do not hand in work unedited. Practice your presentations a few times. Read papers aloud to uncover mistakes you might have missed. Having a tutor or a professor look at the early stages of an assignment or draft is great, but even having a friend or roommate look over your work will provide a fresh pair of eyes to give constructive feedback. If possible, always try to finish an assignment a day or two before it's due so you can edit it after taking some time away from it. Sometimes our mistakes are right in front of us, but oversaturation in an assignment can blind us to them.
Tip 5: Time management
Giving yourself enough time to put your best effort into your work is extremely important in college. At the start of each semester, mark the due dates of major assignments on your calendar, as well as the date you want to start working on them. Give yourself a little wiggle room to work on large assignments. Work on big papers and projects a few weeks in advance so you aren't rushing at the last minute. If you have a bunch of assignments due the same week, see if you can plan to finish an assignment early or ask your professor for an extension (if you ask well in advance, they are much more likely to give you an extension). Create a study and homework schedule for the week on Sunday or find a homework routine that works for you regularly. 
(This article originally appeared in the Spring/Summer 2018 issue of The Decoder. Photo credit: Becky Weidenkopf).