WRS Advanced Strategies for MSL Group Instruction
WRS Advanced Strategies for MSL Group Instruction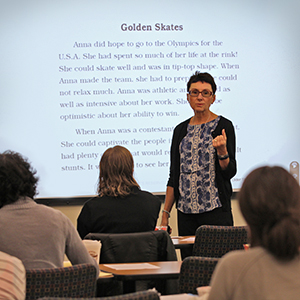 This workshop delves into essential techniques and strategies to improve all aspects of Wilson Reading System® (WRS) small-group instruction through hands-on practice and discussion, and prepares participants for the WRS Group Mastery Practicum.
Learn more about:
---
Registration Process
View current offerings here.
If there is an event of interest listed, please click the "More Info" button next to it for workshop details and registration information.
If the workshop is offered by Wilson Language Training®, click the "Register" button to access the registration form.
Complete registration and submit.
We recommend that you review the course information below and contact us if you have any questions.
Schools and districts may want to explore the option of including WRS Level II Certification for teachers in a COMPASS Plan. Please contact us to start the discussion.
Prerequisites
WRS Level I Certification
Bachelor's degree in education or a related field
Duration
Three consecutive days (15 hours)
Upon Completion
At the completion of the course, participants will be able to:
Identify factors for successful WRS small-group instruction.
Review the planning for and execution of WRS Lesson Blocks 1, 2, and 3 and differentiating instruction for maximum group success.
Develop a word-conscious lesson.
Understand the role of spelling in writing fluency.
Determine how to ensure students successfully access complex text; both literary and informational text structures.
Understand how to select the appropriate text and tasks for students in order to effectively plan for and deliver fluency and comprehension instruction.
Graduate Credit
One graduate credit (optional) is available through Fitchburg State University, Fitchburg, MA, upon completion of course requirements. Please see Process for Graduate Credit for details.
Current Offerings for Individual Teachers
Public workshops hosted by Wilson Language Training are solely available in a virtual format at this time. These instructor-led virtual workshops contain interactive elements and will NOT be recorded. Registrants must attend the live videoconference event and then finish a course assessment within a month in order to be credited with successful completion
View workshop details and registration information by clicking the "More Info" button next to the event of interest.
Only want to view virtual workshops? Click on the State dropdown to filter by "Virtual."
Interested in a location that is full? Please click its "More Info" button, then select "Add to Waitlist" to be notified if a spot becomes available.
Digital access to a handout and an activity packet is provided for each virtual workshop. If you would prefer a hardcopy handout to be mailed to your U.S. address, please register at least two weeks prior to a scheduled event to allow for shipping/distribution.
Wilson Accredited Partners are hosting workshops remotely and in person. For current options, please refer to the options below or learn more on our partner websites.
If a course is offered by a Wilson® Accredited Partner

Please direct all inquiries about program schedules, registration, and enrollment to the Partner organization rather than Wilson Language Training. Access the Partner's contact information by clicking the "More Info" button next to the event of interest.
WRS Advanced Strategies for MSL Group Instruction
Upcoming Workshops/Courses
co-sponsored by:

Massachusetts Branch of the IDA

co-sponsored by:

Massachusetts Branch of the IDA

co-sponsored by:

Massachusetts Branch of the IDA

co-sponsored by:

Everyone Reading Illinois

co-sponsored by:

Virginia Branch of the IDA & Long Island Branch of the IDA

co-sponsored by:

Dallas Branch of the IDA

co-sponsored by:

Virginia Branch of the IDA

co-sponsored by:

Everyone Reading Illinois

co-sponsored by:

Virginia Branch of the IDA

co-sponsored by:

Dallas Branch of the IDA

co-sponsored by:

Virginia Branch of the IDA

co-sponsored by:

Virginia Branch of the IDA

co-sponsored by:

Long Island Branch of the IDA

co-sponsored by:

Virginia Branch of the IDA & Long Island Branch of the IDA

co-sponsored by:

Dallas Branch of the IDA

co-sponsored by:

Rocky Mountain Branch of the IDA

co-sponsored by:

Dallas Branch of the IDA

co-sponsored by:

Rocky Mountain Branch of the IDA

co-sponsored by:

Long Island Branch of the IDA

co-sponsored by:

Dallas Branch of the IDA

co-sponsored by:

Rocky Mountain Branch of the IDA

co-sponsored by:

Everyone Reading New York

co-sponsored by:

Long Island Branch of the IDA

co-sponsored by:

New Hampshire Branch of the IDA

co-sponsored by:

Rocky Mountain Branch of the IDA

co-sponsored by:

Rocky Mountain Branch of the IDA

co-sponsored by:

New Hampshire Branch of the IDA

co-sponsored by:

Everyone Reading Illinois

co-sponsored by:

Everyone Reading Illinois

co-sponsored by:

New Hampshire Branch of the IDA

co-sponsored by:

Everyone Reading Illinois

co-sponsored by:

New Hampshire Branch of the IDA

co-sponsored by:

New Hampshire Branch of the IDA

co-sponsored by:

New Hampshire Branch of the IDA

co-sponsored by:

Los Angeles Branch of the IDA

co-sponsored by:

Everyone Reading New York

co-sponsored by:

Everyone Reading New York

co-sponsored by:

Los Angeles Branch of the IDA

co-sponsored by:

Everyone Reading New York

co-sponsored by:

Los Angeles Branch of the IDA

co-sponsored by:

Everyone Reading New York

co-sponsored by:

Los Angeles Branch of the IDA

co-sponsored by:

Los Angeles Branch of the IDA

co-sponsored by:

Everyone Reading New York
WRS Advanced Strategies for MSL Group Instruction