Scheduling
The Wilson Reading System® follows a ten-part lesson plan that moves at a quick pace with constant interaction between teacher and student. A full lesson requires 90 minutes to complete.
The lesson plan is divided into 3 Blocks.
Block 1: Parts 1-5 emphasize word study/foundational reading skills.
Block 2: Parts 6-8 emphasize spelling/foundational writing skills.
Block 3: Parts 9-10 emphasize fluency and comprehension.
One full lesson consists of all 3 Blocks of instruction (approximately 30 minutes to complete each Block). A minimum of two complete lessons per week should be taught by (or under the guidance of) a WRS certified instructor. Depending upon the student profile and intensity (group size, lesson length, and frequency), it may take 2-3 years (or more) to complete all 12 Steps.
In order to optimize student learning and attainment of skills, the following schedule is recommended.
One-on-One Instruction
When working one-on-one, instruction should be scheduled for the following length and frequency:
45 minutes, 4-5 times per week
60 minutes, 3-5 times per week
75-90 minutes, 2-5 times per week
Optimal intensity: 90 minutes/3 times a week or 75 minutes/ 4-5 times a week
Small-Group Instruction
For small-group instruction, students should be pretested and grouped homogeneously based on similar word attack and spelling measures. When working with a small group, reference the following scoring guidelines for initial grouping: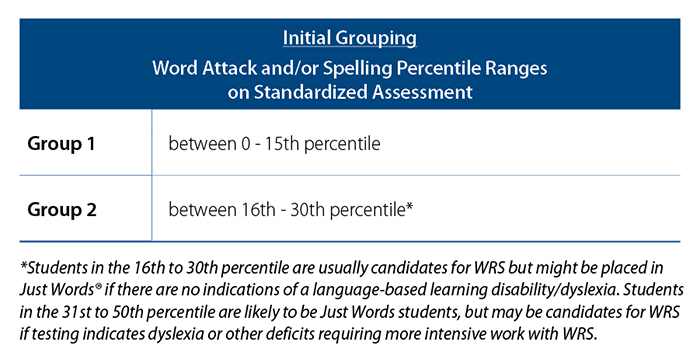 The ideal group size is up to 4 students. Group size of up to 6 students is appropriate in some settings (i.e., with a highly skilled teacher). 
45-60 minutes, 4-5 times per week; or

 

75-90 minutes, 2-5 times per week; or

 

Optimal intensity: 90 minutes, 5 times per week

 
Wilson Language Training® recommends that instruction occurs five days a week with a WRS certified instructor. If classes are scheduled for 45-60 minutes, two sessions will be required in order to complete a full 3 Block lesson.