Teacher Support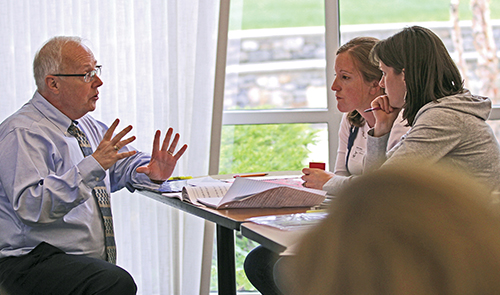 At Wilson Language Training®, our goal is to provide educators with resources, tools, and information to enhance Wilson Reading System® (WRS) instruction and support its implementation with fidelity.
Our comprehensive professional learning opportunities ensure teachers are prepared to effectively use WRS within their schools' Multi-tiered System of Supports (MTSS).
Wilson offers professional learning support to individual teachers, and to schools and districts as part of a customized COMPASS plan.
Individual teachers
The WRS Introductory Course, WRS Level I Certification, and WRS Level II Certification are strongly recommended, as they provide teachers with the necessary background and skills to teach WRS in a manner that maximizes students' success in the program.
Ongoing support is provided through our online Wilson Academy®. WRS instructors access the Intensive Learning Community (NLC) for printable materials, video demonstrations, expert tips, FAQs, discussion boards, online chats, and additional resources, including weekly paired decodable/enriched text passages.
Schools & Districts
We partner directly with schools and districts to build local capacity to use, support, and sustain the WRS program in the district. Your Wilson team works alongside school- and district-based teams to prepare and implement your COMPASS plan.
The WRS Trainer Development Program is recommended to help schools and districts move toward sustainability. By developing WRS trainers, a district ensures that all WRS teachers maintain the fidelity of implementation that results in student success.