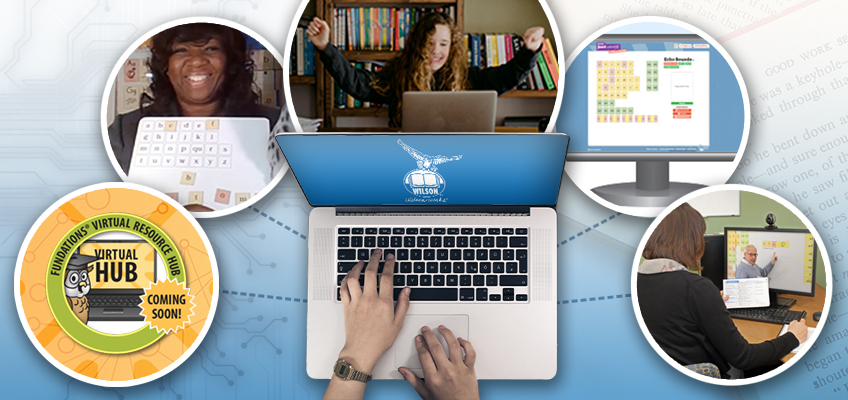 Teaching and Learning Resources for 2020-2021
August 6, 2020
Whether the 2020-2021 school year finds K-12 teachers and students back in the classroom, working remotely, or engaging in a combination of the two, Wilson will be here. We will be here with new and enhanced tools and resources. We will be here with remote professional learning opportunities for districts and individual educators. We will be here to support you at every turn and make this school year as exceptional, enjoyable, and educational as any other—whatever challenges it may bring.
Now more than ever, we need creative, collaborative solutions to achieve literacy for all students, whether they're in the classroom or learning at home. Based on insights gained from the spring and a summer of preparing, we have added resources—which build upon existing Wilson resources—to supplement all our programs in any learning environment. ​
PROGRAM INSTRUCTION & MATERIALS
Districts, schools, and educators implementing Wilson programs will have access to a wide range of digital resources to support blended and online learning throughout the 2020-2021 academic year at no charge.
Fundations instruction will be enhanced by the Fundations Virtual Resource Hub, (FUN HUB). This site provides one-stop access to guidance and materials for remote learning. Included are ideas for pacing, assessment, learning loss, and delivery of lesson activities. Teachers will be able to share these resources through a simple link in their existing learning management systems, such as Google® Classroom. 
We are happy to announce that our popular InterActivities app has been adapted for Fundations. The Fundations InterActivities app, which is available for each level, provides teachers with an interactive, online teaching tool, complete with Sound Cards and other Fundations materials.
The FUN HUB will host a library of videos delivered by Wilson Literacy Specialists to demonstrate new concepts. Teachers may use these videos to better understand what is being taught in each Unit, and  students and their families may watch them at home. Guidance for families in the form of video-based home tutorials and print-based practice packets is also available.
The Fundations At Home Student Packets are a low-tech and inexpensive solution allowing students to have a set of mock-up manipulatives for at-home use so they don't need to carry their materials to and from school. Each packet contains level-specific materials to assist with remote learning.
The Prevention/Early Intervention Learning Community will continue to offer printable resources, demonstrations, targeted instruction/intervention guidance, and expert tips for use in conjunction with the FUN HUB.
During school closures this past spring, Wilson Reading System® (WRS) and Just Words® (JW) teachers found the JW InterActivities app helpful, along with the guidance and resources posted in the COVID-19 section of our website. We will continue to make these resources available via the Wilson Academy® Learning Communities for Just Words and WRS. A WRS-specific InterActivities app is in development, and the JW InterActivities will remain available to WRS teachers until it is ready.
REMOTE PROFESSIONAL LEARNING
Wilson is working with districts to continue providing the same high-quality professional learning they have come to expect.
Fundations and Just Words Virtual Launch Workshops® have been added to Wilson's professional learning offerings for the 2020-2021 school year. These instructor-led, remote options are designed to be highly interactive.
Available for each Fundations Level (K-3) and Just Words, the virtual workshops were developed to ensure schools and districts continue to have access to introductory training for the programs during this time of social distancing. The Virtual Launch Workshops include an overview of program materials, lesson planning, live video demonstrations to understand lesson flow, and tips for using notable features in Wilson Academy.
This exciting shift to remote professional learning for Wilson's in-demand courses includes new features that promote interactive learning. Months of deliberative planning and testing using the Plan-Do-Study-Act cycle have made sure our in-person professional learning is effectively taught in a remote environment while providing teachers with the same high-quality professional learning they trust from Wilson. We retooled the online workshops to include break-out sessions and other features to address adult learning principles.
Senior Vice President Paul Tortolani shared: "This methodology provided a means to introduce, test, assess, and refine all aspects of a new workshop delivery system by adopting a trial and learn mentality. Everything we learned and applied enabled us to improve subsequent workshops."
Educators who helped pilot the Virtual Launch Workshops were overwhelmingly satisfied with the new format and the outcomes.
"I loved being able to watch a Fundations lesson in action, to hear her wording, the teacher's role, the students' role, and to see how materials were used!" shared a Fundations Level 3 Virtual Launch Workshop participant.
Virtual Implementation Support (VIS)
Virtual Implementation Support continues to expand as a remote professional learning opportunity for educators and districts across the country. VIS provides teachers with access to a virtual collaborative community where they can interact with and learn from both colleagues and a Wilson Literacy Specialist. Participation helps develop the knowledge and skills required for successful implementation of a specific level of the Fundations program or the Just Words program. Initially developed for teachers new to Fundations or Just Words, VIS is also suited for program veterans who wish to brush up on skills, concepts, and instructional strategies.
Live, interactive study sessions about upcoming Units and concepts, practical classroom tips, and teaching strategies led by a Wilson Literacy Specialist or a Wilson Instructional Development Specialist are scheduled at critical junctures throughout the school year.
Additional features include: curated content and links to resources in each program's online learning community; opportunities to collaborate with colleagues via a monitored discussion board to share successes and brainstorm solutions; and, in dedicated cohorts, one-on-one meeting support with a Literacy Specialist scheduled at multiple intervals during the program.
WRS Certifications continue unabated for the new school year, with all opportunities available remotely through online coursework and web-based practicums. The deadline has been extended through December 31, 2020 for those who began the course during the last school year and need additional time to complete the program requirements due to school closures.
As the 2020-2021 school year begins, Wilson remains committed to providing innovative tools and resources you can trust to help educate and elevate your students every day, whether they're learning in the classroom or at home. No matter what the coming months have in store, Wilson will be here for you through it all.