Selecting Assistive Technology
---
Ensure accessibility and "literacy for all."
Range of Assistive Technology (AT) Tools
Assistive technology (AT) can be as sophisticated as eye gaze software that allows a person to use his or her eyes to navigate a computer, or as simple as an erasable highlighter to color code information in a textbook.
As a general rule, when determining which AT tool to use, always "try before you buy." Many free trials last for 30 days, which is usually plenty of time to determine whether the tool will be beneficial for your child or student. If a free trial is not available, consider using the "light" version first before investing in a more comprehensive version.
Low and High Tech
Low Tech: AT does not need to be expensive or complicated. It is defined as a tool that enables the student to access a curriculum that would otherwise be inaccessible. Examples of low-tech tools are: raised lined paper, a slant board, and erasable highlighters.
High Tech: Examples of high-tech technology tools include: eye gaze software, text-to-speech and speech-to-text applications, word prediction, augmentative and alternative communication (AAC) devices, artificial intelligence, virtual reality, and websites such as Newsela that allow a student to change the reading difficulty of a passage.
Here's a database of reviewed apps, called Common Sense Media Resource, which can help narrow your search.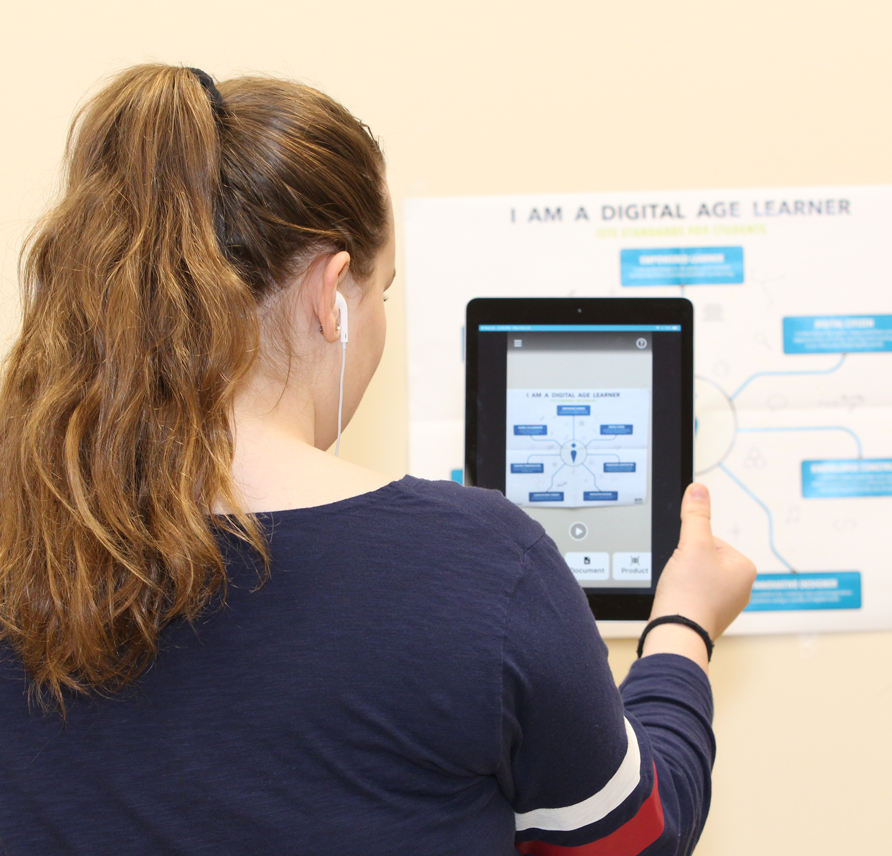 Hear from our Director of Accessibility and Assistive Technology Resources, Nanci Shepardson
Nanci Shepardson, Director of Accessibility and Assistive Technology Resources at Wilson Language Training® (WLT), discusses challenges when selecting the right AT tool. Nanci offers advice, guidelines, and common pitfalls to avoid. More information can be found in the article, Assistive Technology Overview for Parents of Students with Learning Disabilities.
Decision Valuing Process
Before selecting a particular AT tool, the student's education team must first consider the student's unique needs and learning environment, including how and when the supports will be used.
The SETT framework, created by Dr. Joy Zabala, is widely used in the education field for making collaborative, informed decisions about selecting AT tools. SETT, which stands for Student, Environment, Task, and Tool, lays out a specific plan to find solutions that will level the playing field for students with learning disabilities.
How does the SETT framework help guide decision making?
Student: Always start with the student first. Discuss and document the student's strengths and challenges. Whenever possible, include the student in this conversation.
Environment: Once the student's needs have been established, the next factor is to consider the environment. Where are we asking this student to do the work? In a quiet library, a lecture hall, or a science lab? Each of these environments present their own challenges and benefits.
Task: Next, consider the task. What are we asking this student to do? Is it to write a paper or dissect a frog?
Tool: The team can discuss different tool options after these three factors are thoroughly considered.
Training: Once a tool or tools have been chosen, it is important to establish who will provide the training to all stakeholders needed to support the student's progress with the tool.
Trial: Pursue a free trial whenever possible. These free trials range from a week to a month and can be very helpful in determining the effectiveness of the tool for each student prior to making a commitment.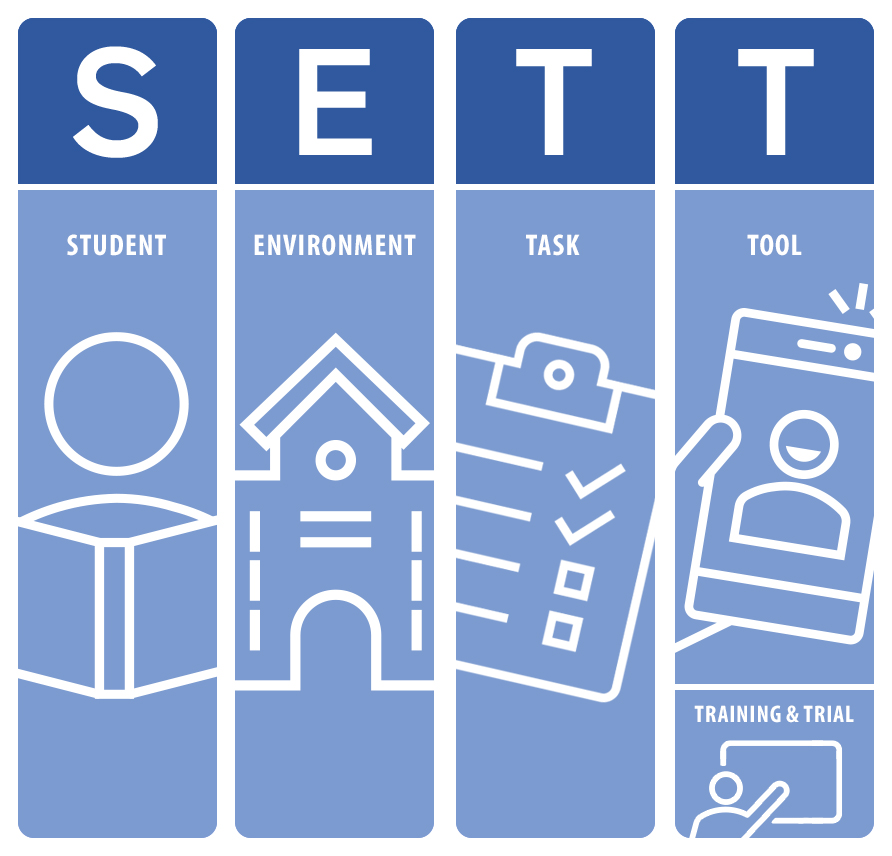 Precautions
Potential mistakes happen when a tool is chosen because it happens to be available. For example, if a student is provided with a tablet because it is what the school has previously purchased, but it is not actually the right tool for the task the student needs to accomplish, the tablet can potentially lead to frustration and missed learning opportunities.
A student's privacy online is a factor to consider when choosing a tool; be sure to consult data privacy laws for minors. When researching, ask about what data is collected and who is that data shared with before purchasing. Another factor to consider when choosing a tool is if it needs internet access to function properly. For example, the text-to-speech option on Apple® based products is built into the operating system, so no internet is required. On the other hand, products used to scaffold the comprehension process often do require an active internet connection.
---
A Vehicle to Achievement

The best AT plans are based on excellent communication and collaboration. The process should remain fluid as the learner develops and acclimates. In addition to an AT plan, it is always important to make sure that a sound plan is in place to remediate the child's learning challenges. Technology should never be used in lieu of a high quality, intensive intervention with a certified/qualified professional.

---
Support Goal Achievement
In addition to using the SETT framework, the tools chosen must "support achievement of goals and progress in the general curriculum," according to Quality Indicators for Assistive Technology. Each tool must take into consideration the unique needs of the student, and the results of using the AT device must be measurable and observable.
Evaluating Effectiveness
The following items will help you assess if an AT tool is working for your student.
Determine progress benchmarks once a tool is chosen.

Schedule regular check-ins to determine if the student is meeting the benchmarks.
If the student is not meeting the benchmarks, document the changes that are needed. Data collection is essential and must be collected in every setting where the tool is used.
Sometimes the selected tool(s) does not work the way the team expected. If the technology is not benefitting the student, make sure to ask the following questions with the team (and the student when applicable):
What is working or not working and when? Be sure to ask the student directly.

Was there adequate training on how to use the tool? Often, the vendor that makes the tool can provide guidelines for adequate training.

Did this training include adults who care for the student both at home and at school?

Has the learning environment changed?

Is there any new training needed?

What observations do teachers have?
Include the student and the caregiver(s) in a collaborative process to determine the student's AT needs.

If the school system does not have a trained and experienced AT professional, outside support should be secured.

Make sure to consider a range of tools.

Document the reason(s) why a particular tool has been chosen. Include any information from the AT assessment while meeting with the Individual Education Program (IEP) team. "Develop a written action plan that provides detailed information about how AT will be used in specific educational settings, what will be done and who will do it" (QIAT, 2022).

Do not introduce too many tools at once. This will make it difficult to determine what is working and what is not.

Reassess whenever the environment is altered, the student's needs change, or the educational tasks have been modified (QIAT, 2022).
Disclaimer
Wilson Language Training® (WLT) offers this information as a service to help educators, parents, students, and others find and obtain assistive technology tools. WLT does not necessarily endorse any of the devices or applications listed. It is the sole responsibility of the user to research the devices and applications. WLT is not responsible for users' actions or inactions, is not involved in the transactions between users and vendors, has no financial ties to any vendors listed, and has no control over and does not guarantee the suitability, fitness, condition, quality, safety, or legality of devices or applications discussed or listed, or the accuracy of information provided by vendors.