Supporting Wilson Reading System Students During COVID-19 Closures
Wilson Reading System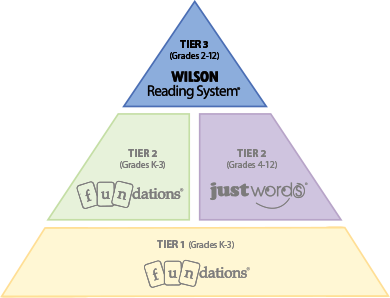 The Wilson Reading System® (WRS) is the flagship program of Wilson Language Training® and the foundation of all other Wilson programs. WRS is an intensive Tier 3 program for students in grades 2-12 and adults with word-level deficits who are not making sufficient progress through their current intervention; have been unable to learn with other teaching strategies and require multisensory language instruction; or who require more intensive structured literacy instruction due to a language-based learning disability, such as dyslexia.
As a structured literacy program based on phonological-coding research and Orton-Gillingham principles, WRS directly and systematically teaches the structure of the English language. Through the program, students learn fluent decoding and encoding skills to the level of mastery. From the beginning Steps of the program, students receive instruction in:
Word structure (in depth) for automatic decoding and spelling
Word recognition and spelling of high frequency words, including irregular words
Vocabulary, word understanding, and word-learning skills
Sentence-level text reading with ease, expression, and understanding
Listening comprehension with age-appropriate narrative and informational text
Reading comprehension with narrative and expository text of increasing levels of difficulty
Narrative and informational text structures
Organization of information for oral or written expression
Proofreading skills
Self-monitoring for word recognition accuracy and comprehension
With the Wilson Reading System 4th Edition, key characteristics of the WRS program remain, alongside many new enhancements. It builds on over 30 years of proven success and provides teachers with explicit guidance and resources in word structure, vocabulary, fluency, and comprehension. Updated extensively, this new edition ensures that the teacher and student resources continue to incorporate all the research-based best practices that have been a part of our teacher professional learning courses for many years.
The WRS 4th Edition includes the following highlights!
Expanded and revised Instructor Manual
Added focus on core/academic vocabulary
Integrated and systematic instruction of phonology, orthography, and morphology, including direct teaching of prefixes and Latin & Greek word elements
New fluency and comprehension guide for Block 3
Enhanced student progress monitoring
New high frequency word cards and phrases for practice and dictation
New sentences and expanded stories in the Student Readers, with focus on high frequency, core, and academic words
Minor scope and sequence changes, specifically related to morphology
Wilson Language Training has an ongoing commitment to high-quality implementation and professional learning. WRS certification programs support an in-depth understanding of language structure and mastery of multisensory and diagnostic instructional techniques. As a result, teachers are able to utilize the WRS program with fidelity, thereby accelerating and optimizing students' reading achievement.
Wilson Language Training and Wilson® Accredited Partners have received accreditation by the International Dyslexia Association. Learn more on our Endorsements page.
All students in grades 2-12 and adults who are not making sufficient progress in intervention or who may require more intensive instruction due to a language-based learning disability/dyslexia
One full lesson consists of all 3 Blocks of instruction (approximately 30 minutes to complete each Block); minimum of two complete lessons per week
Small group (ideally up to 4 students), one-to-one
Special education classroom, resource room, literacy center, adult education
WRS Level I Certified Wilson® Dyslexia Practitioner (W.D.P.) or WRS Level II Certified Wilson® Dyslexia Therapist (W.D.T.)
Professional Learning & Support
Wilson Academy®/WRS Learning Community (online)
Program workshop and instructor-led courses
In-person and online courses on intensive instruction, basic word study, and advanced word study
WRS Level I and II Certification with practicum observations and implementation seminars
Sustainability plans