Virtual Implementation Support
---
Wilson® Professional Learning at your fingertips.
[Virtual Implementation Support] provided me with ideas on how to reach students through a multisensory approach with a variety of interactive activities. Knowing there was a constant support system was helpful.

Linnea Fitzgerald, Middle School Special Education Teacher
What is Virtual Implementation Support (VIS)?
Recognizing that limited time and distance are barriers to in-person sessions for many, Wilson® now offers live, interactive support to educators, no matter where they are located. Called Virtual Implementation Support (VIS), this professional learning is geared toward teachers who are new to Fundations® or Just Words®. It is delivered over the course of a school year by a highly-qualified team of Wilson Literacy Specialists and Wilson Credentialed Trainers. This Level-specific online community of practice allows for the time and space needed to deepen skills, learn practical tips, and connect with peers across the country.
The online format is well-suited for use by a variety of schools and districts; this includes rural districts looking for professional learning and large urban districts expanding support to teachers in schools beyond the district's designated demonstration site with onsite coaching. "We're looking at the next generation of Wilson® support," shared Mark Foran, Senior Director of Professional Learning for Virtual Implementation. "This lets us engage with more teachers and impact more students to help them become fluent, independent readers."
Who is VIS for?
VIS is designed for educators new to the Fundations or Just Words programs. Although the content is geared to the initial year of implementation, veteran Just Words and Fundations teachers may also benefit from enrollment in VIS to deepen their understanding and skill level.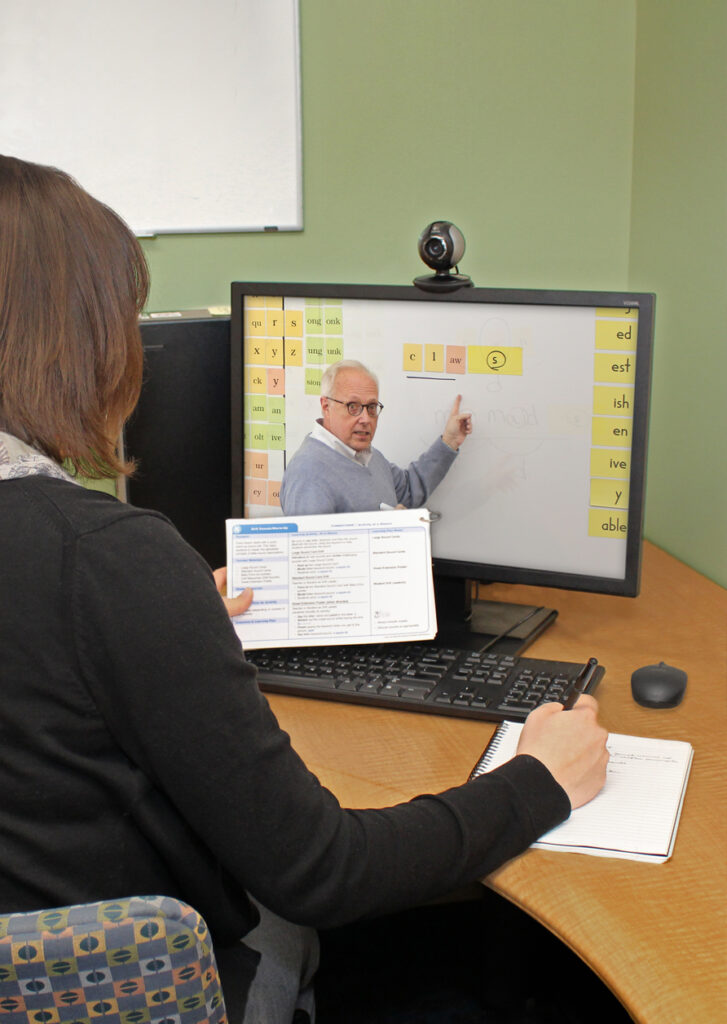 Key Features of VIS
Forty-five minute highly interactive sessions on 7 different topics, covering key instructional concepts; learning activities; principles of instruction; practical classroom tips; and teaching suggestions led by a Just Words or Fundations expert

Work with a highly-qualified team of Wilson Literacy Specialists and Wilson Credentialed Trainers to strengthen your understanding of instructional procedures and language concepts

Opportunities to register for multiple sessions on the same topic over the course of the year to interact with the curriculum as it progresses

Practical tips and opportunities for Q & A
Curated content is shared just when a teacher might find it useful, pointing to resources already available on the program's online Learning Community (through Wilson Academy®), such as demonstration videos, expert tips, printable resources, and much more.
VIS enrollments also include access to Self-Paced Launch workshops that provide overviews of the Fundations and Just Words curricula. Through participation in the Launches, teachers learn about program/level-specific language concepts and skills, principles of instruction, and the use of instructional materials, as well as the resources available on the extended Learning Communities for Fundations and Just Words. The Launches also provide guidance and practice in preparing effective learning plans and allow participants to visualize the flow and pace of a full lesson. 
Collaborate with the cohort leader and teachers from across the country to celebrate successes and brainstorm solutions to instructional challenges
---
Registration for 2023–2024
Registration for individual enrollment in Virtual Implementation Support is now open! Please select the appropriate program and level below to begin the online registration process.
For assistance or questions, please contact our Customer Support team.
---
Join the Next VIS Session
Virtual Implementation Support is available through our COMPASS plan process with districts or for individuals. For more information, contact Wilson's Customer Support Center at 800.899.8454 or reach out via email.