WRS Certified Teacher Conference
Registration Now Open!
Learn about intensive Structured Literacy instruction informed by the Science of Reading at this year's event. Although in-person seats for Boston are sold out, you can still connect online!
WHEN: July 12–13, 2023
WHO: Educators who are WRS Level I Certified, WRS Level II Certified, a Wilson® Dyslexia Practitioner (W.D.P.), or a Wilson® Dyslexia Therapist (W.D.T.)
Curious about how to translate the Science of Reading into Fundations® instruction? Sign up to stay through Friday, July 14 for the Fundations Conference.
---
The Wilson Reading System® (WRS) Certified Teacher Conference was created exclusively for WRS Level I and Level II Certified educators who are dedicated to expanding their knowledge and practice.
● Learn "big picture" research and theory about significant educational topics from leading experts, including Barbara Wilson.
● Strengthen your instructional skills in interactive sessions led by master educators who understand teachers' challenges.
● Re-energize your passion for teaching by connecting with a community of WRS-certified peers and exchanging ideas.

The next WRS Certified Teacher Conference is scheduled for July 2023. This conference provides a wonderful opportunity for teachers to share their Wilson experiences and gather information relevant to their unique needs, which they then can put into practice with students.
Get a taste of our exciting events! Watch our videos which showcase the 2022 Wilson® Trainer Meeting at the Seaport Hotel Boston and the virtually held 2021 Wilson® Summer Conferences.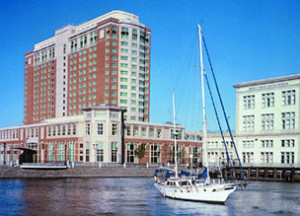 About Our 2023 Venue
The Seaport Hotel & World Trade Center in Boston provides welcoming service with all the amenities to make you feel at home. Located on the waterfront in the bustling Seaport District, it offers you stylish, luxury accommodations with dazzling city and harbor views. All of Boston's major points of interest are easily accessible. The Seaport's caring extends to its environmental program, earning it recognition as one of the greenest hotels in North America.
---
"The WRS Conference was completely worthwhile and insightful beyond words. I highly recommend all WRS certified teachers attend this conference to refresh, ignite, and spark new understanding of WRS strategies and concepts to better serve our students."

Emily Stefanac, Pennsylvania
"This conference was fantastic, and I am definitely going to attend next year's conference. … The quality of information, the outstanding organization, and the kind, compassionate vibe expressed by all the presenters made this a delightful experience. Thank you for … making this a superior learning experience."

Katherine Schamay, Georgia
"Excellent choice for guest speakers and expertise in the science of reading, the reading brain, and dyslexia. [The virtual] format was easy to use and the bonus goodies were a very unexpected treat that made my day(s)."

Vivian Vargeletis, Massachusetts
---