WRS Certified Teacher Conference
Early Bird Registration Is Now Open for 2024!
Be a part of our showcase event for Wilson Reading System® (WRS) Certified Teachers. The in-person conference in Boston, MA, has historically filled to capacity, so don't miss your chance to secure your spot at a discounted price! Register before February 29, 2024, to enjoy early bird savings of $100.
Educators who are WRS Level I Certified, WRS Level II Certified, a Wilson® Dyslexia Practitioner (W.D.P.), or a Wilson® Dyslexia Therapist (W.D.T.) are invited to participate.
TWO WAYS TO ATTEND:
In Person on July 22-23, 2024
Join the action at the Hilton Boston Park Plaza.
Early Bird Tuition: $499*
Virtual on October 7-8, 2024
Secure your spot now for the virtual experience.
Early Bird Tuition: $399*
---
WRS Certified Teacher Conference + Fundations® Conference
Curious to enhance your foundational literacy and Fundations® knowledge? Continue on for the two-day Fundations Conference. Register for both events at the same time for extra savings!
In Person on July 22-25, 2024
Four days of professional learning at the Hilton Boston Park Plaza.
Early Bird Tuition: $899*
Virtual on October 7-10, 2024
Secure your spot now for the virtual experience.
Early Bird Tuition: $699*
* WRS Certified Teachers who maintain their Wilson® Dyslexia Practitioner or Wilson® Dyslexia Therapist credential are eligible for an additional discount. Use the discount code WPLC30 when registering to save an additional $30!
* If you are registering five or more educators, please email us for additional discounts at wilsonconferences@wilsonlanguage.com.
These events may be eligible for ESSER funds. Please check with your school/district about potential funds for these premier professional learning events.
---
What to Expect
The Wilson Reading System® (WRS) Certified Teacher Conference was created exclusively for WRS Level I and Level II Certified educators who are dedicated to expanding their knowledge and practice.
● Learn "big picture" research and theory about significant educational topics from leading experts, including Barbara Wilson.
● Strengthen your instructional skills in interactive sessions led by master educators who understand teachers' challenges.
● Re-energize your passion for teaching by connecting with a community of WRS-certified peers and exchanging ideas.

This conference provides a wonderful opportunity for educators to share their experiences and gather information to put into practice with students. Stay tuned for more details about the 2024 WRS Certified Teacher Conference as they become available.
Get a taste of our exciting events! Watch our videos which showcase the 2022 Wilson® Trainer Meeting at the Seaport Hotel Boston and the virtually held 2021 Wilson® Summer Conferences.
---
About Our Venue
The Hilton Boston Park Plaza combines historic charm with modern amenities to create a stunning, one-of-kind experience. Its premier Back Bay location is surrounded by shopping, dining and entertainment. Popular sites like the Boston Common, Public Garden, and Theater District are all within a half-mile of the hotel.
To book your hotel room at the special discounted rate of $259 per night plus taxes and fees, call 617-426-2000 and identify yourself as part of Wilson Language Training 2024.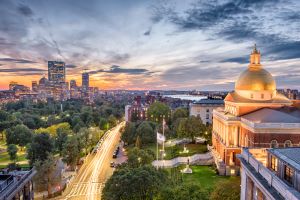 ---
"The WRS Conference was completely worthwhile and insightful beyond words. I highly recommend all WRS certified teachers attend this conference to refresh, ignite, and spark new understanding of WRS strategies and concepts to better serve our students."

Emily Stefanac, Pennsylvania
"This conference was fantastic, and I am definitely going to attend next year's conference. … The quality of information, the outstanding organization, and the kind, compassionate vibe expressed by all the presenters made this a delightful experience. Thank you for … making this a superior learning experience."

Katherine Schamay, Georgia
"Excellent choice for guest speakers and expertise in the science of reading, the reading brain, and dyslexia. [The virtual] format was easy to use and the bonus goodies were a very unexpected treat that made my day(s)."

Vivian Vargeletis, Massachusetts
---