The science of reading (SoR)—the scientific explanation behind how people learn to read—is not a new topic, but it has recently been the subject of widespread discussion across a broad audience.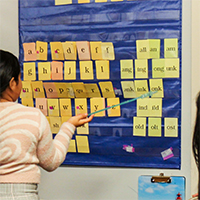 State legislators began passing bills to overhaul literacy instruction in the 2010s. As the gravity and urgency of student learning loss have moved to the forefront of the national discourse in recent years, educators and administrators must filter through a flurry of debates, articles, social media trends, and buzzwords to discover what works best for their struggling readers.
One prevalent term is "Orton-Gillingham" or "O-G." What does that mean? What does Wilson Reading System® (WRS) have to do with O-G?
The O.G. of Literacy
The early 20th century brought changes to the way people view reading and reading difficulties. That's when neuropsychiatrist and pathologist Dr. Samuel Torrey Orton first shined a spotlight on language-based learning disorders, including dyslexia. He extensively studied children with reading "failure" and developed a teaching philosophy and set of best practices.
Anna Gillingham, a psychologist and educator, worked with Dr. Orton to train reading teachers in this new reading philosophy. She also created and published instructional materials based on Dr. Orton's extensive research. These materials were intended to inform the way teachers taught reading using any curriculum. The body of knowledge began with the work of these two well-respected individuals became known as the O-G approach, a teaching philosophy with a set of instructional principles applicable to learners of all ages.
Applying the O-G Approach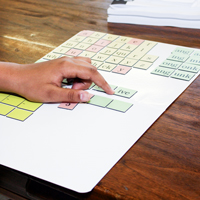 An approach is a way of thinking about how to address an issue. A program is a course of action that applies the principles of an approach. WRS is a structured literacy program that applies the principles of the O-G approach. It provides an established scope and sequence of concepts and skills for teachers to follow as they instruct second-grade students through adults who struggle to read or have language-based learning disabilities, including dyslexia.
An approach is not a curriculum; a curriculum is a set of lessons designed to teach specific concepts. As a result, teachers using the O-G approach without a dedicated program must find or build their own curriculum. WRS includes a curriculum that applies the O-G approach.
Wilson Language Training® Co-Founder Barbara Wilson learned the O-G approach in the 1980s when she taught adults to read at Massachusetts General Hospital's Language Disorders Unit. With the principles of that approach in mind, she created the Wilson Reading System.
WRS's explicit and systematic structured language curriculum provides a range of activities and multimodal lessons to reinforce learning which are tailored to the individual needs of struggling readers. Information is presented sequentially, incrementally, and cumulatively to directly teach how the English language works. Assessments and feedback give students the satisfaction of seeing the results of their efforts.
Each component of WRS is designed with intentionality to guide students through every step of the journey toward literacy. Because it is more than an approach, the scope and sequence of the WRS program and accompanying materials allow teachers across the country and the world to deliver the program in a consistent manner.
More details about the distinction between the O-G approach and WRS can be found in the PDF fact sheet "Orton-Gillingham & Wilson Reading System®: What's the difference?". Click the link to download and learn more.