Overview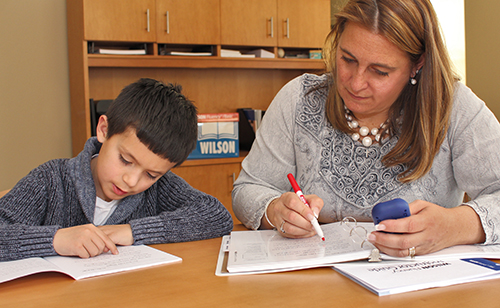 Wilson Fluency®/Basic provides extended narrative and informational reading passages to give students the focused practice that helps increase fluency and comprehension. It supplements any reading program that introduces short vowels in words with progressively more challenging patterns.
Highlights include:
Phonetic and high frequency word practice to improve accuracy and automaticity. 
Controlled, short phrases with taught-word patterns and high frequency/sight words.
Longer phrases, presented in meaningful chunks to develop prosody, containing both taught and untaught elements. 
Practice with a phrased version of a story followed by the unphrased passage to further develop phrasing and expression.  
Comprehension instruction incorporated from the beginning, with students asked to retell each story to monitor comprehension. 
Practice with enriched and decodable passages to enhance listening and reading comprehension, and vocabulary. 
Non-controlled, decodable passages in the Basic Reader to help students begin to transfer their emerging decoding skills to reading authentic text with support and success. 
Assessment tools to measure student rate, accuracy, and prosody are provided for each text. 
Detailed instructions to allow teachers to measure student fluency levels in words correct per minute (WCPM), and prosody using the four-level scoring rubric developed by the National Assessment of Educational Progress (NAEP). 
Laminated Tally Sheets and Student Recording Forms to make it easy to monitor student progress. 
Student Fluency Readers for students to graph their own progress.