>
>
>
>
Virtual Resource Hub (FUN HUB™)
Virtual Resource Hub (FUN HUB™)
Teachers are thrilled with the resources available in the FUN HUB!
"I was just getting together with our grade-level team to figure out the videos and resources we need to
pull together for remote teaching. The FUN HUB will save us hours of work and a lot of stress. Thank you!" 
– Teacher, Concord, MA
Click on our video to view a sneak peek of all the FUN HUB has to offer!
Registration is now open for the FUN HUB! Districts and schools implementing Fundations® will have access to a wide range of digital resources to support blended and online learning at no additional cost for the 2020-2021 school year.
Teachers will be able to share these resources through a simple link in their existing learning management systems, such as Google® Classroom. After watching the sneak peek of the FUN HUB, check out our guidance video and resource handout for remote and blended settings.
The Fundations Virtual Resource Hub will provide resources including: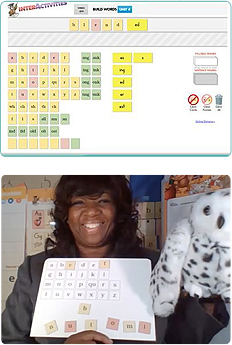 Fundations InterActivities — an interactive teaching tool with Sound Cards and Fundations materials to help teachers deliver lessons online
Video demonstrations delivered by Wilson Literacy Specialists to introduce new concepts and support for small-group, targeted instruction
Guidance and support for families including video-based home tutorials and additional print-based practice packets
Teacher guidance for remote learning, including ideas for pacing and learning loss, assessment, and delivery of lesson activities
NEW! Big Picture Overview of Remote and Hybrid Learning
Check out the companion video to our guidance handout!
Check out this resource handout and the corresponding video for big-picture guidance on Fundations in remote and hybrid settings as you begin the school year. This resource is also posted to the FUN HUB.