Overview
Just Words® supports struggling readers – those who have not mastered the foundational skills of language structure typically learned in grades K-3 – with strategies that will allow them to independently read and spell words and build the skills necessary to access and master grade–level standards.
Emphasizing phonemic awareness, phonics, word study, and spelling, Just Words is the word study component of the Wilson Reading System® curriculum at an accelerated pace. As such, the instructional principles  mirror each other.
Just Words addresses: 
Foundational and language standards that are absolutely necessary to be able to access grade-level text. 
Phoneme segmentation skills for up to six sounds in a syllable, with application for decoding and spelling. 
Study of the English sound system.
Syllable structure including six basic syllable types in English and syllable division patterns used for decoding. 
Spelling with common Latin prefixes, roots, and suffixes. 
Processes for vocabulary study as well as the meaning of common Latin prefixes and roots. 
Decoding application with phrasing for meaning. 
Automatic reading and spelling of the first 300 most frequently used words from Dr. Edward Fry's 1000 Instant Words as well as additional high frequency words.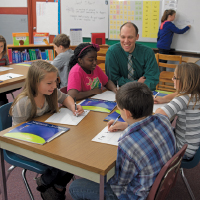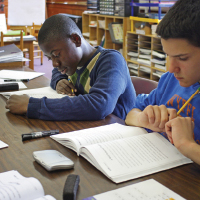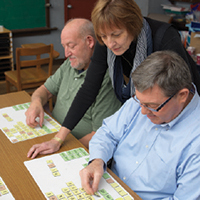 The program design incorporates:
Explicit, systematic teaching of skills.
Extensive student practice with multiple opportunities to meaningfully apply concepts, skills, and strategies.
Directed, accelerated pacing of word study and spelling instruction based on the research-validated Wilson Reading System program.
An Instructor Manual and an online Intervention Learning Community for comprehensive teacher guidance and support. 
Lessons that are accessible to all students because the concepts are taught and practiced in multiple modes of learning: visual, auditory, tactile, and kinesthetic.
Instruction that naturally builds upon students' prior knowledge, reviewing and integrating past concepts within the learning activities.
Modeling and scaffolding of instruction to ensure that students understand the skills being taught, learn the procedures, and are then able to use the skills and procedures on their own.
Guidance and immediate feedback during practice so that the student's correct responses are reinforced.
Development of students' metacognitive skills by having them think about the learning tools they have acquired and which to draw on if they need help, connect current learning to previous skills taught, and explain how the new skills will help them achieve future goals.
Integrated assessments that allow teachers to monitor for student progress throughout the program, identify areas of strength and weakness, and differentiate instruction as appropriate.