Materials
Enhanced and extensively updated, the Wilson Reading System (WRS) 4th Edition builds on more than 30 years of proven success in literacy instruction. It provides teacher and student resources that incorporate all the research-based best practices that have been part of our teacher professional learning courses for many years.
Wilson Reading System® instructional materials provide teachers with the tools they need to implement a structured literacy program. The fourth edition of WRS offers teachers even more precise guidance and extensive resources in word structure, vocabulary, fluency, and comprehension to benefit students. The previous edition of WRS provided practice in some morphological aspects of the English language, but now we are providing a greater emphasis with our systematic approach toward teaching morphology, phonology, and orthography.
One of the more significant and important updates is the direct teaching of high frequency words, including irregular words, in a predetermined sequence. Also significant is the selection of words for wordlists and stories considered to be core vocabulary. Most of these words are drawn from the TextProject's WordZone™ for 4,000 Simple Word Families (Hiebert, 2012), which represents 90% of the words most frequently used in written text.
The Instructor Manual has been divided into two volumes (Steps 1-6 and 7-12) because it provides more detailed instructions, including the tips and other guidance used in Wilson® trainings.
Block 3 now includes more explicit guidance. The Comprehension & Fluency Block 3 Guide provides comprehensive background information, progression guidelines, and specific instructions for fluency and comprehension work.
The End-of-Step Assessments (Steps 1-6) and Baseline and Step Assessments (Steps 7-12) now also measure phonetic word reading accuracy and automaticity, marking current concepts, high frequency word reading, independent silent reading, passage oral reading fluency and comprehension, and dictation (spelling). The detailed guidelines on progression will help with student mastery and pacing.
The Student Readers feature new and revised sentences and decodable passages that incorporate high frequency, core, and academic words. The passages are intentionally longer to help students build reading stamina. Students gain fluency and accuracy by practicing skills with a substantial amount of controlled text. Wordlists, sentences, and stories, are approximately 98% decodable throughout the entire 12 steps. 
The Wilson Academy/Wilson Reading System Learning Community provides additional student materials, such as more decodable text and fluency drills for each substep. 
The materials that accompany WRS are appropriate for all learners, including English language learners struggling to decode and encode in English. The WRS program content, design, and materials were built with sensitivity to the issues of diverse learners, including race, culture, nationality, language, gender, and socioeconomics. The program aims to avoid the depiction of stereotypes and the misrepresentation of populations.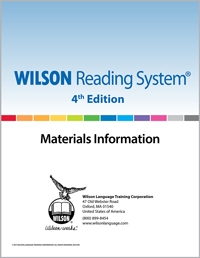 Please see our WRS Materials Information booklet for details about the instructor and student materials.
Also see the WRS Materials FAQs page for more information.