For Rosa Young, life's long and winding road led her back home.
When she graduated from Copperas Cove High School in Copperas Cove, TX, Rosa didn't know where the future would take her. "After graduation, I went out on a career path trying to find out where I wanted to be. I got married. My husband and I traveled a bit. Then, we ended up back in Copperas Cove."
After a 20-year career with a telephone company in town, Rosa retired and had the opportunity to make a new career of something she felt passionate about—education.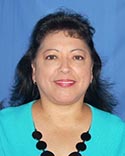 Rosa began teaching second grade English learners (ELs) at J.L. Williams/Lovett Ledger Elementary School in 2008—the same school her granddaughter attended. She is now an EL interventionist for Grades K–5.
Rosa relates to her students on a deep level. As a teacher and fellow EL, she understands the challenges they face trying to gain English language skills while working to keep up in all their classes. She remembers what it felt like as she tried to memorize new words to read and write without completely knowing how the language worked.
"We didn't have a phonics program in school when I was a student," Rosa mentioned. "Being able to see the advantages of a Structured Literacy program for my kids makes all the difference."
The professional learning and support Rosa received when her school implemented Fundations® helped her teach it with ease. "I fell in love with the program because I saw so much growth in the kids. Now as an interventionist, I work one-on-one with my kids, and I see so much strength and growth in them," she said.
During Fundations lessons, Rosa's students learn new vocabulary words as well as the rules of English—something they can't necessarily pick up on their own. They find the keyword pictures on the Fundations Large Sound Cards especially helpful. These cards introduce students to letters and their sound associations with the help of illustrated keywords.
Rosa is impressed by her school district's focus on helping students begin their education on a sure footing. Now in her second year as an EL interventionist, Rosa said, "We're seeing kids getting a good foundation. If they can't read, they can't do science or other subjects as well because they need to read to succeed in them."
"I've been with Copperas Cove so long because of the school's dedication to the students," she explained. "If I didn't believe in what they were doing, I couldn't stay."
Rosa is well known by the children in Copperas Cove. She lives in the same community and neighborhood as many of her students and sees them often. Her students are excited to encounter her at the grocery store and other places in town. Some former students even invite Rosa to their high school graduation ceremonies.
"I love it because I feel like these are my kids. It's been nice to see them graduate because I've been here that long."
Rosa's dedication to her students is nowhere near ending. In the future, she hopes to become certified as a Wilson® Dyslexia Practitioner (W.D.P.). In Rosa's current EL interventionist role, she works one-on-one with students, but those with dyslexia receive special services from other educators. She looks forward to the time when those students will be able to stay with her all day.
"Maybe I'm a little selfish, but I'd love to have these kids in my classroom all day!"