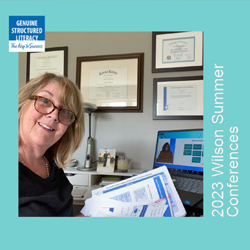 The 2023 Wilson® Summer Conferences were a smashing success. More than 1,500 participants convened for the annual Wilson Trainer Meeting, Wilson Reading System® (WRS) Certified Teacher Conference, and Fundations® Conference at the beautiful Seaport Hotel in Boston, MA. There were 388 in-person and 1,183 virtual attendees. Of these, 137 were Wilson® Credentialed Trainers (W.C.T.s), 66 were Wilson Literacy Team members, 638 were WRS Certified Teachers, and 730 were Fundations teachers. In-person attendees traveled from as far away as Hawaii while online attendees hailed from as far away as Germany.
Changing Lives
The first day of the Wilson Trainer Meeting and WRS Certified Teacher Conference focused on what matters most to Wilson Language Training® (WLT) and its educators—lives changed through literacy. WLT Co-Founder Ed Wilson shared a story about his WRS Certification practicum student, whose life turned around after he learned to read. Co-Founder Barbara Wilson encouraged teachers to continue supporting the vision of genuine Structured Literacy instruction. Mallory Scruggs, Wilson Dyslexia Training Specialist; Jennifer Bigos, Literacy Advisor/Literacy Specialist; and Bonnie O'Shields, Wilson Professional Learning Dyslexia Team Manager, each shared their personal experiences with loved ones who struggled with dyslexia and inspired their WRS careers.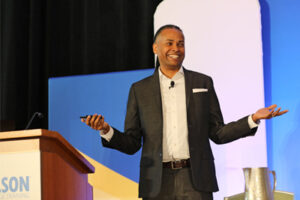 Featured Speaker
Poet, author, learning disability advocate, business owner, and podcaster LeDerick Horne inspired Fundations Conference attendees with his experience as a student with dyslexia learning to read and finding his path in life. He centered his talk around two key words, "pride" and "community," which are core to the book he co-authored, Empowering Students with Hidden Disabilities: A Path to Pride and Success. LeDerick emphasized the importance of affirming students with invisible learning disabilities. Supporting students in this way helps remove the perceived stigma around learning disabilities and fosters a sense of pride in their gifts and identities.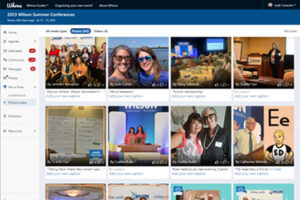 Trainer Pinnings and Award Winners
This year, attendees celebrated eighteen new W.C.T.s in the 2023 cohort. Fourteen were present to receive their pins from Barbara and Ed Wilson. These knowledgeable, experienced, and dedicated individuals are key to the successful implementation of Wilson programs with fidelity across the country. Congratulations to the graduates!
Four educators were honored with awards this year. Suzanne "Sue" Reynolds and Rebecca "Becky" Adrian received the Sharon Parks Memorial Scholarship for WRS Level II Training. This award is given to individuals who demonstrate exemplary dedication to the mission of helping students become fluent, independent readers. Dr. Suzan Radwan received the Mary Ann Bonneau Administrator Award, which is given to an administrator who is extremely committed to achieving literacy for all students, specifically with a successful implementation of WRS within their school district. Jermal L. Riggins received the Janet R. O'Connor Administrator Award, which is for administrators showing strong dedication to achieving literacy for all students, specifically with a successful implementation of Fundations within their school district. Our warmest congratulations go to these devoted educators!
Hearing from the Experts
In her keynote address, Barbara Wilson explained the connection between the science of reading and Wilson programs. She showed that genuine Structured Literacy is more than a set of isolated skills; it interweaves all the domains of language as they apply to literacy.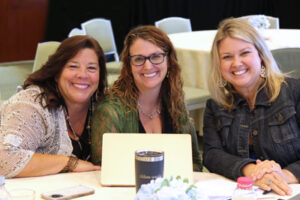 Author, educational consultant, and nonprofit co-founder, Dr. Jan Hasbrouck, discussed the role of fluency in Structured Literacy and explained it as a complex construct that supports comprehension and motivated reading.
Professor at the School of Communication Science and Disorders at Florida State University, Dr. Hugh Catts, emphasized that reading comprehension is a complex multidimensional ability that is best assessed and taught within a content area.
President of the Valley Speech Language and Learning Center, Dr. Elsa Cárdenas-Hagan spoke about the benefits of Structured Literacy instruction for English learners (ELs). She also spoke about the importance of using culturally and linguistically responsive practices in the classroom.
Bright MINDS
A team of leaders from the Bright MINDS Program at Alameda International Jr./Sr. High School walked attendees through the steps they took to provide a no-cost public education program geared toward students with dyslexia. Psychologist and Program Coordinator Dr. Todd C. Ognibene, Program Administrator Andrea Arguello, Program Reading Interventionist and Wilson® Dyslexia Practitioner (W.D.P.) Sarah Richards, and Program Learning Specialist/Reading Interventionist and W.D.P. Jessica Thurby offered a practical roadmap and encouragement to others interested in starting a similar program in their communities.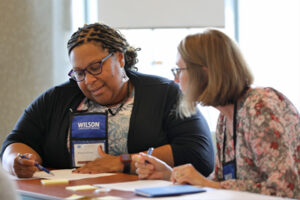 Opportunities to Collaborate
During breakout sessions, attendees put their heads together and shared ideas and tips. Discussions covered topics such as how to best deliver WRS Block 3 instruction, strive toward greater student achievement with Fundations, apply the science of reading beyond Fundations lessons, and improve morphology instruction.
Five-in-Five Slam
The winners of the Five-in-Five Fundations Teacher Slam received free tuition to the 2023 Summer Conference and shared their best classroom ideas for Fundations lesson activities. Each competitor shared a five-slide presentation that showed how to "add more fun into Fundations."
Anne Marie Phelan, a Level 2 teacher, promotes play with word element dice and a game called "Sentence Head-Bandz."
Level K teacher Sanqual Sampson encourages collaboration with team tapping games and "buddy time" with positive feedback.
Laura McGuire, a Level 3 teacher, shared Kahoot activities and an original song she wrote that keeps her students engaged and aligns with the Fundations Word of the Day activity.
Level K teacher Kayse Anderson includes pretend play, such as "Spelling Chef" (who cooks up words?) and "Mission to Encode" where students pretend to be spies receiving codes (words) to spell secret signals.
Heather Prusse, another Level K teacher, stepped into her students' love of kinesthetic activities by using scarves or ribbon wands to skywrite letters, and rhythm sticks to tap and blend sounds.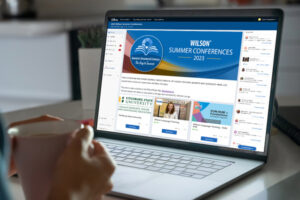 Missed the Conferences? There's Still Time to Learn!
If you couldn't attend this year's Wilson Summer Conferences, you still can take part through on-demand registration that begins on August 1. Registrants will have access to the on-demand recordings of sessions through October 31, 2023. Click the following links to register for the WRS Certified Teacher Conference, the Wilson Trainer Meeting, and the Fundations Conference.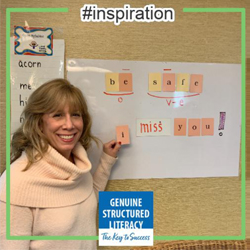 Save the Dates
Join us online or in person for the 2024 Wilson Summer Conferences to be held at the Boston Park Plaza Hotel on July 22–25, 2024. See you there!