Reading difficulties affect daily tasks many of us take for granted: paying bills, finding housing and work, communicating with our children's schools, voting, and even knowing our rights.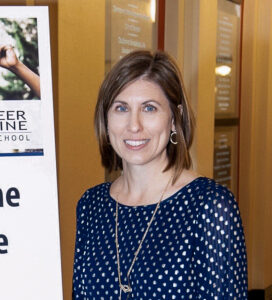 These barriers can be overcome. As Texan Beth Horner knows, adults can learn to read even if they've struggled to do so for most of their lives. Beth is the director of the adult literacy program at cafécollege Houston, a resource center that offers support to first-time college seekers and adult learners. Part of Beth's work involves helping adults gain literacy skills so they have equitable opportunities.
When Beth started at cafécollege Houston, which is part of the Houston Public Library, she noticed that a lot of adults called to inquire about learning to read. With her background in special education and K–12 reading interventions, she knew she could support these callers.
While teaching in the Pacific Northwest some time ago, Beth learned useful Wilson Reading System® (WRS) strategies from a supervisor. Informed by the science of reading, WRS supports learners from Grades 2-12 and adults who are making insufficient progress in their current intervention or who may require intensive multisensory language instruction due to dyslexia or other language-based learning disabilities. These students benefit from WRS's diagnostic and multisensory Structured Literacy (SL) approach. Her positive introduction to WRS made Beth feel encouraged to learn more about it.
During the COVID-19 pandemic, Beth earned her WRS Level I Certification online through Gordon College, a Wilson® Higher Education Partner. She then earned her Wilson® Dyslexia Practitioner (W.D.P.) credential.
Virtual Learning for Busy Adults
Beth began teaching one-on-one WRS lessons virtually through cafécollege Houston. Her students made great progress and the online format suited their busy schedules well. As COVID-19 restrictions eased, Beth offered in-person WRS instruction, but some of her students opted to continue learning online.
Work schedules, family responsibilities, transportation, and other factors can present obstacles for adult learners. At 665 square miles, the city of Houston is home to more than 2.28 million people. A cross-town drive can be not only time consuming but also challenging. The option to learn online removes some of these obstacles and makes literacy training accessible to more people.
"Houston is a huge city, and it's difficult to get around with traffic and working," Beth said. "It's nice that I can accommodate the people who need to meet virtually."
Different Stories With a Common Theme
Beth currently delivers WRS instruction to five adults between the ages of 20 and 65. Despite their diverse backgrounds, they have one thing in common—they all have struggled with learning to read throughout their lives. Some have tried other approaches or reading programs in the past but made little progress. Now with WRS, each person's experience is a success story in the making—and Beth is thrilled to be a part of it.
"I love working with these students," she says. "It's rewarding to see reading changing their lives."
Beth works with students individually, walking them through each part of a WRS lesson from beginning to end. "Being able to work with me one on one is one of the main things that helps them most," she said.
Anna is one of cafécollege's WRS students; she is eager to gain enough reading proficiency to read maps and study for her commercial driver's license. Anna began studying WRS with Beth because someone told her it wasn't too late to learn to read in her thirties. Her new literacy skills have presented opportunities that Anna never thought were available to her. She appreciates the fact that Beth doesn't give her all the answers but instead lets her work through lessons.
Her hard work is already paying off. "I can read texts!" she exclaimed. "I can fill out applications for jobs. When I'm reading, I understand things better and feel more confident."
Trey sought Beth's help after searching the internet for videos about reading instruction and trying out various adult education programs. He's learning to read so he can go to school to become a heating, ventilation, and air conditioning technician.
Trey's new reading skills also are useful in his current parcel delivery job. "When I became driver of the month, people asked me how I did it. Learning to read helped me read signs and delivery notes."
He's happy to report that he now uses his skills to train new delivery drivers. "Reading is helping me with my job and my life because I don't feel like I am walking blind," he said.
Another of Beth's adult literacy students, Malik, is interested in getting into local politics. Achieving literacy will help him campaign for a spot on the city council. Malik, who has attempted to learn to read multiple times, told Beth, "You're the only teacher who has not given up on me."
Raquel is an English learner (EL) who has been a municipal employee for her entire career and is getting ready to retire. She would like to open her own business for her second career, but she needs to improve her reading skills. "I want to be able to articulate and understand. I want to feel more professional about my work. Now that I have gained more proficiency in reading and writing, I am enrolling in an English course."
Raquel is thankful for Beth's attentive and thorough instruction. "In the past, I had teachers that let me get by in school," she said. "But I am thankful for my teacher today because she makes sure that I will not go to the next step unless I master each step."
With Beth's help and WRS instruction, all of these students are empowered to achieve their goals.
Raquel has an encouraging message for other adults who would like to learn to read: "You are never too old to learn! I am in my mid-fifties, and I am never too old to learn."
To find a certified WRS instructor near you, visit our Credentialed WRS Individuals Tutor Map.